About Us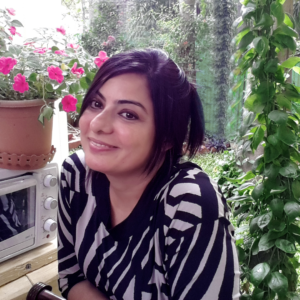 Hey Beautiful!
How are you?
Want to know…Who am I 😉 ?
Hehehe…I feel, I am an Rainbow-Flower Gardener's soul struck on earth as a Software Engineer 😉
My father served in Indian Airforce & and I have grown seeing different colors of India in all forms…language, people, culture, tradition,arts etc. As a child, I always had a creative streak. But because of my 6 major surgeries my parents always prioritised studies over creativity. But Life has its own plans!
Year 2006 in London, I accidently came across Clay flowers online. That very moment my heart was caught. I just woke up to the purpose of my life. I had a plan and I started skilling myself in clay art parallel to my IT job.
In 2009, I had a son who needed me more than anything.
After working for 10 years in IT Industry, in 2012 I decided to be a dedicated mother and at the same time follow my dreams. So I quit my IT job & turned my passion to profession with the birth of SeemaClayFlower & SeemaClayJewelry.
Things were going great until 2016. 2016 to 2020 series of health related incidents happened with my father & mother inlaw. Fracture-surgery, stroke-paralysis , parkinsons-heart issue & eventually we lost two precious angels and my husband had a major Heart Surgery. Escaped Death! Work Impacted.
It took years for life to come back to normal.
Although my name 'Seema' means 'Limit'! But I know 'NO limits' when it comes to Clay Art.
Air Dry Clay, Polymer Clay, Homemade Earthen Clay, Resin Clay, Terracotta, Ceramic…I work with all forms of clay.
For me, Clay is my expression of Love for Mother Earth…which I express by Flowers, Colors and Clay using different art forms.
I love to personalize my admirer's dreams and bring them to reality via my art! Be it….Thai Clay Flowers, Polymer Clay Jewelry, Resin art, Terracotta, Ceramics, Wall Murals, Human sculpting, Garden Accessories, Home Nameboards, Crystal Jewelry, Hair Accessories, Personalised gifts… anything that you can name – can be made!
Even if you want to learn from me….I DO IT ALL by my art classes.
Today at the end of 2021, we feel blessed…and I am back full-fledged to my dream job.
This website, marks once again….the begining of my new journey…
A Journey of my creativity & your dreams…From my Hands to your Heart…
Don't forget to follow me over on my Instagram where everyday we have a new creation!
www.instagram.com/seemaclayjewelry
Love Always…
~Seema.